On Hallow's Eve, they say Ol' Scratch
Comes to haunt the Pumpkin Patch

Gordo is a two-faced pumpkin puppet, with one happy side and one evil side, allowing you to have a character with an age-appropriate tone for all your visitors.

Special Pumpkin Effect

In addition the the regular use of our puppets, Gordo can be used in a really fun new way! Turn off all the lights in Gordo to black, turn off the floating effect, and project Gordo onto a pumpkin to make it look like it is alive! We call it "black mode", and only the eyes, nose, and mouth gets projected, with everything else showing only black, making your pumpkin look alive! See it in action:

Features

If you are having trouble with resolution or color issues, you can hold down Option (on Mac) or Alt (on Windows) when launching the puppet to see a resolution picker dialog. This is useful if the puppet is selecting the wrong resolution by default (say, if it is causing display issues, or is preventing mirroring to another screen).

CLICK HERE TO PURCHASE
only $15


Try the demo

Please try before you buy! The demo is fully-featured, with only a watermark, so you can find out if the puppet will work for you before you drop a single dime on it.

Mac Demo 2.1.cs Windows Demo 2.1
Other haunts using Gordo
Leo Lane Haunt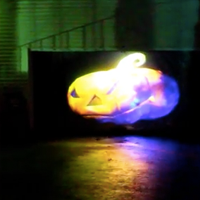 Mike used Gordo with a rear projection screen with a standard USB microphone and computer speakers. It was a monstrous success with dozens of children asking their parents if they could stay at his house for the rest of the night!
More...
Did you use this effect in your haunt and want to show it off? Let us know about it and we might feature your haunt right here!
Version History
For the 2012 haunting season, Gordo underwent a complete rewrite because the 3D framework we were using (Adobe Director) has apparently ceased all support for modern operating systems. As a result, the feature set for version 2.0 and 1.5 is drastically different. Some new features are in, some features have been dropped. Overall, we think the new version is more streamlined and easier to use, but if one of the features you liked from the old versions is key to your haunt, you can download old versions below - they should all work with your serial number.
The most notable change is the fact that we dropped support for the microphone and scripting input types. You can achieve the scripting input type of control by just doing a performance while using screen capture software like Snapz Pro, since computers are generally more able to deal with video capture now than they were when we first introduced the feature. The microphone input, however, cannot easily be reproduced, but this was by far the feature which caused the most difficulty for our users, requiring many last-minute support emails on Halloween day. Considering this mode of input also results in the least convincing performance (due to many factors), we have removed it from all versions of our puppets going forward. If you require microphone input for your project, please use one of the older versions, but note that we can no longer support this deprecated feature.
Version 2.1.cs

Version 2.1

Version 2.0

Version 1.5

Version 1.3

Version 1.0