The Magic Mirror: Conclusion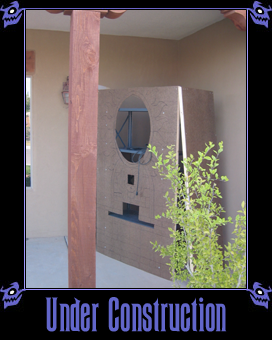 That's it! You're ready to haunt your home with a creepy magic mirror that will interact with the local trick-or-treater's. Here are some parting thoughts to help you get the most out of your experience.
It's fun playing the part of the Magic Mirror, but you will probably want to take a break at some point, if only to see your visitors' reactions to the mirror. (You can see your visitors through the scrim, but it's hazy. You'll want to interact a bit with your guests on the night of.) Plan on having some relief puppeteers for the big night if you can.
If you can, pair your Magic Mirror actor with an usher. If you don't have a line waiting to see your Mirror the first year, you will definitely have one the second year. An usher can help keep the crowd back to give each kid the one-on-one time with the Mirror that makes it so magical, and can relay responses more loudly for you when you have the occasional shy child who won't speak up. He can hold off the crowd while you refill your fog machine, help you stock up on candy if you run low, and generally act as a greeter for your neighbors and friends. And if anything goes wrong with the mirror, such as an unexpected alert from your operating system or something, the usher can alert you instantly, and deal with the crowd while you get it fixed.
Speaking of unexpected alerts, be sure to turn off all applications running on your machine for best performance. Check your calendar, anti-virus, backup, and other auto-running applications to make sure that you don't get reminders or other dialog boxes popping up during your performance.
Set your monitor to 800x600 and use the portrait mode of the software to create the largest mirror face.
Go easy on the fog blasts. Use only the shortest blast you need to get the effect across. Since the heated plate cools off when fog juice hits it, and your machine will eventually shut off while it reheats the plate occasionally, the shorter bursts of fog you use, the more you'll get between reheat cycles.
Have some "stalling" techniques in mind for when your fog machine has to re-heat its plate. Sometimes your fog machine may take a little while to warm up and be ready for fogging. One effective technique we've used is to withhold the candy until the person in front of the mirror sings a song. Whether it's a cute little kid that sings a cute song, or a teenager who has to grudgingly sing "I'm a Little Teapot," it's a crowd-pleaser either way, and is sure to kill enough time to get the fog machine up and running.
If you find that your fog machine stalls out too often to be workable, you can always have two behind your facade, and switch between them. Have two ducts, one attached to each, so that your puppeteer only has to connect the one in use to the lion's head.
Show It Off!
If you use this effect, we'd love to see how it turns out! Submit your haunt and show off what you make for everyone to see. Or just email it to us - your choice!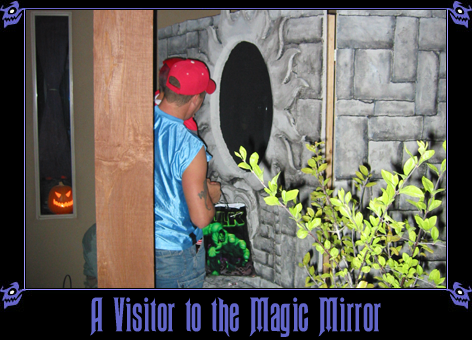 We hope you've enjoyed this article on the Magic Mirror. It's a big hit with the kids on our street every year, and it has delighted kids (and adults) of all ages. That's really what Halloween is about: providing a fun, spooky experience for kids to add a little magic back into their lives. When you consider that, all the work to get this thing made was well, well worth it.
Happy haunting from the Carnival of Souls crew!